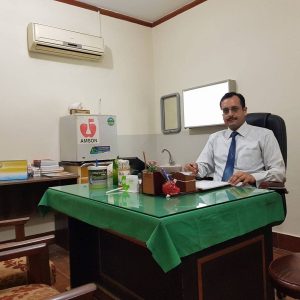 About Neurosurgeon Dr. Waqas Mehdi
Dr. Waqas Mehdi is one of the best neurosurgeons of Lahore, Pakistan. He is serving as 'Asst. Professor King Edward Medical University / Mayo Hospital, Lahore' and is a specialist doctor for Brain, Spine, Neuropain, Functional and complex neurosurgical diseases. He specializes in the diagnosis and surgical treatment of disorders of the central and peripheral nervous system including congenital anomalies, trauma, tumors, epilepsy, vascular disorders, infections of the brain & spine, ischemic stroke, or degenerative diseases of the spine. He has successfully operated a huge number of cases for brain and spine diseases which many others refused. Renowned for accurate diagnosis and treatment of brain & spine diseases. Effective use of advance neurosurgery techniques (Microscope/Endoscope/Neuronavigation/C-arm,) makes him undoubtedly a best neurosurgeon! Due to impressive success ratio out of his completed procedures, he is considered the best Pakistani Neurosurgeon for Brain & Spine. Due to his accurate diagnosis and surgical skills, he got top rank among the Neurosurgeons of Pakistan and Lahore, Karachi, Islamabad, Peshawar, Multan, Faisalabad etc. He is equally regarded by other neurosurgeons, neurophysicians, neurologists, general practitioners, physiotherapists and other Pakistani doctors as well. Another quality making us distinct from others is management of neurospinal pains by latest injections, radiofrequency ablations, laser etc. so the patients gets all facilities of their neurosurgical diseases under one roof.
QUALIFICATOINS:
M.B.B.S                                  University of health sciences, Lahore    

B.Sc                                        University of Punjab, Lahore

FCPS (Neurosurgery)           College of Physcians and surgeons, Pakistan
PUBLICATIONS:
            Neurosurgeon Dr. Waqas Mehdi has published more than 15 original research publications in national and international journals. He has new contributions in the management of brain tumors, spinal tumors, congenital disease, spinal transpedicular fixations, endoscopic disc surgery, Pituitary tumors, infections of brain and spine, paediatric neurosurgery, head injuries, lumbar stenosis.
PAPER PRESENTATIONS:
            Neurosurgeon Dr. Waqas Mehdi has the honor of representing his research work in the form of paper presentation both on national and international forums, this shows his dedication to represent Pakistan across the globe. He has more than 20 paper presentations in different cities like Lahore, Multan, Islamabad, Peshawar, Karachi, Dubai, Sharjah, Toronto, Birmingham, Jeddah, Kuwait, Afghanistan, USA, Australia etc.
CONFERENCES:
            Neurosurgeon Dr. Waqas Mehdi is always keen to attend national and international conferences to update his knowledge, he has travelled across the globe and has attended more than 20 conferences.
WORKSHOPS:
            Neurosurgeon Dr. Waqas Mehdi has attended many workshops in Pakistan and abroad to seek new operative skills to serve the poor ailing patients. This will also help in transfer of skill to new upcoming young neurosurgeons.
BOOK WRITING:
            Neurosurgeon Dr. Waqas Mehdi has a contribution in the writing of a book name "Applied interpretation of CT scan" in the year 2016.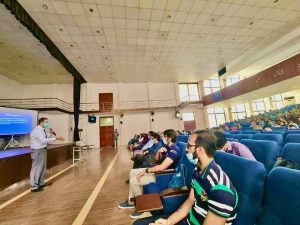 UNDERGRADUATE TEACHING:
            As a teaching faculty in one of the prestigious university of Pakistan, Neurosurgeon Dr. Waqas Mehdi has the mandatory component of teaching of MBBS and Nursing, Physiotherapy, Paramedics. This is payback to our beloved country.
POSTGRADUATE TEACHING:
            Neurosurgeon Dr. Waqas Mehdi has the honor of being supervisor and examiner of post graduate neurosurgical programs of Pakistan. These include FCPS and MS neurosurgery. He has attachment with King Edward Medical University, College of physicians and surgeons Pakistan, University of health sciences
EQUIPMENT / TOOL DEVELOPMENT:
            Neurosurgeon Dr. Waqas Mehdi has special interest in development of elctromedical and surgical instruments for the service delivery of demanding patients. He has the honor of patent neurosurgical instrument and striving hard to develop 'made in Pakistan' quality products.